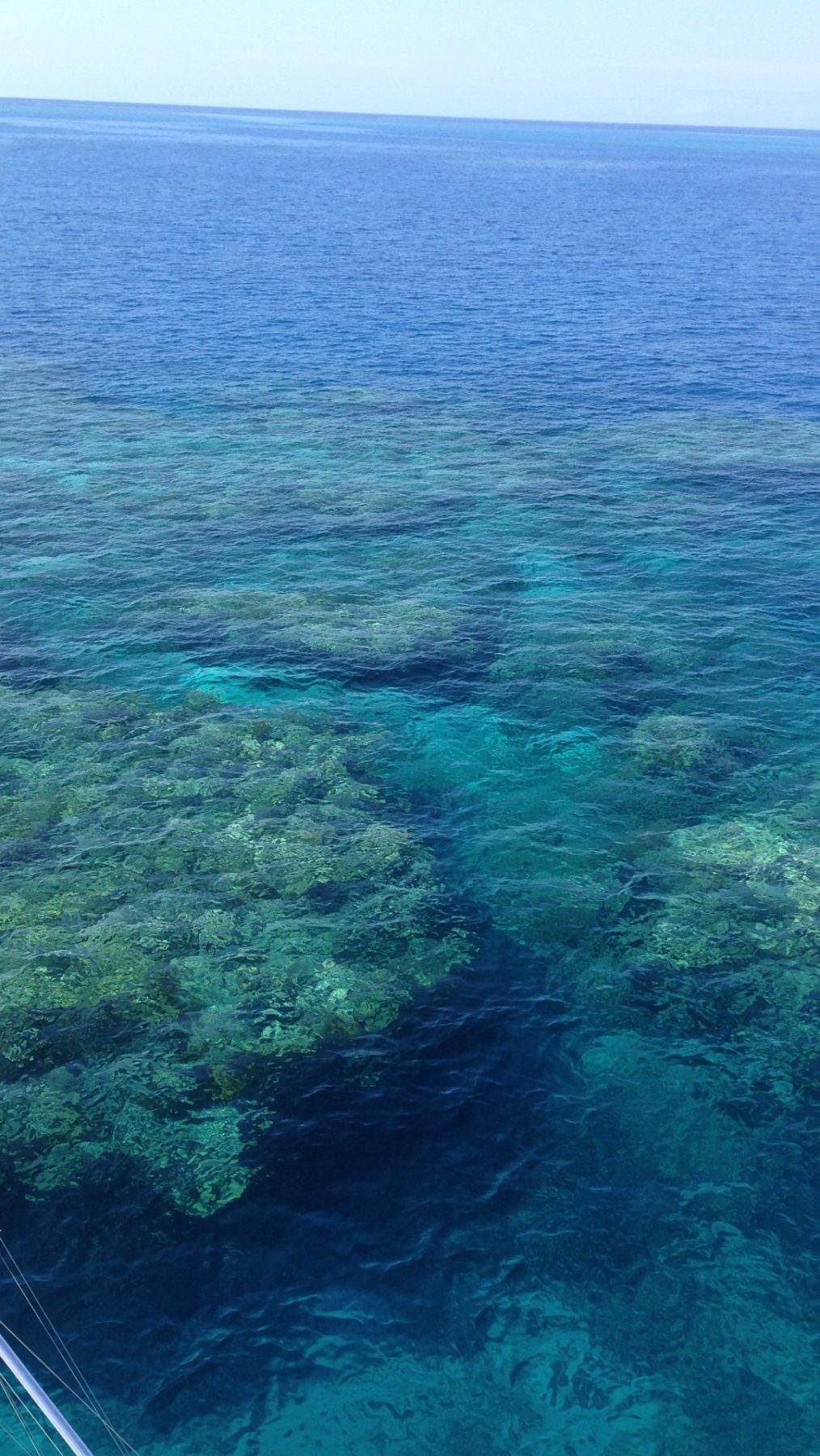 2021 CAIRNS - LIZARD ISLAND AUSTRALIA, and FRASER ISLAND/ SE QUEENSLAND
Sept 1-15 2021 Gold Coast to Fraser Island, Lady Musgrave blue marlin live aboard trip
September 15 to September 29 2021, Start in Cairns , then out of Cooktown / Lizard Island

October 21-27 7 days 6 nights, available with mothership or live aboard, Cooktown to Cooktown heavy tackle black marlin
December/ January 2022 2020 Lady Musgrave/ Fraser Island , Gold and Sunshine Coasts blue and black marlin fishing
It all began in September 1966, on an exploratory trip on the Sea Baby, when Richard Obach, Capt. Georges Bransfords' deckhand, caught the very first 1000 lb black marlin. The fish weighed 1064 lbs on 80lbs tackle and was the first Black Marlin world record to come from the Great Barrier Reef. Since this time, more marlin over 1000lbs have been caught and released than every other place in the world combined !!.The TRADITION fishes the Cairns and Lizard Island region, including the famous Ribbon Reefs . We roam 150 nm of the Great Barrier Reef grounds from September through to late December each year for the Giant Black Marlin. Allowing us to be where the best fishing occurs during the heavy tackle black marlin season.
Fishing trips can be arranged in three ways:
Day trips for guests staying at the exclusive Lizard Island resort (a 5 star exclusive resort 14 miles from the top of No:10 Ribbon Reef) We pick you up around 8 am and fish for the day and drop you back at the resort around sunset.
Liveaboard trips - Most of our clients fish for 5 days or more at a time, with single anglers, couples, or groups of friends. We also love to share the GBR experience with your family -teenage kids just love the reef!! Liveaboard trips on TRADITION are very comfortable, with full airconditioning, Wifi, watermaker, great food and crew.
Mothershipping with a larger vessel for up to 6 guests. The mothership is anchored behind the reef in calm water and has a full crew onboard to make your stay one of fine food and memories.
Early season and from Mid November we start our fishing trips from Cairns. Come mid season our trips generally begin and end in Cooktown, a country town about 100nm north of Cairns. Cooktown can be reached either by a 45 minute scenic flight from Cairns ,or by a 3-4 hour drive by car. Cooktown is the end of the main road and very cool drive!!!! The mornings are spent swimming, having breakfast, bait fishing, spearfishing, throwing poppers and jigging. About 10.30 - 11.00am we head out to fish for the big blacks. We usually fish till just before dusk and then run back in to the anchorage behind the reef for drinks and dinner in the calm waters behind the Great Barrier Reef. We practice tag and release with Billfish Foundation tags on our fish, unless the fish is to be weighed.
We carry our own IGFA certified scales for any record fishing. Capt Tim Richardson uses only the finest tackle and crew to make your experience one of excellence. With many regular clients each season, now is the time to make that trip of a lifetime (or year, as many of our clients do fish with us every year) to experience one of the seven natural wonders of the world - the Great Barrier Reef.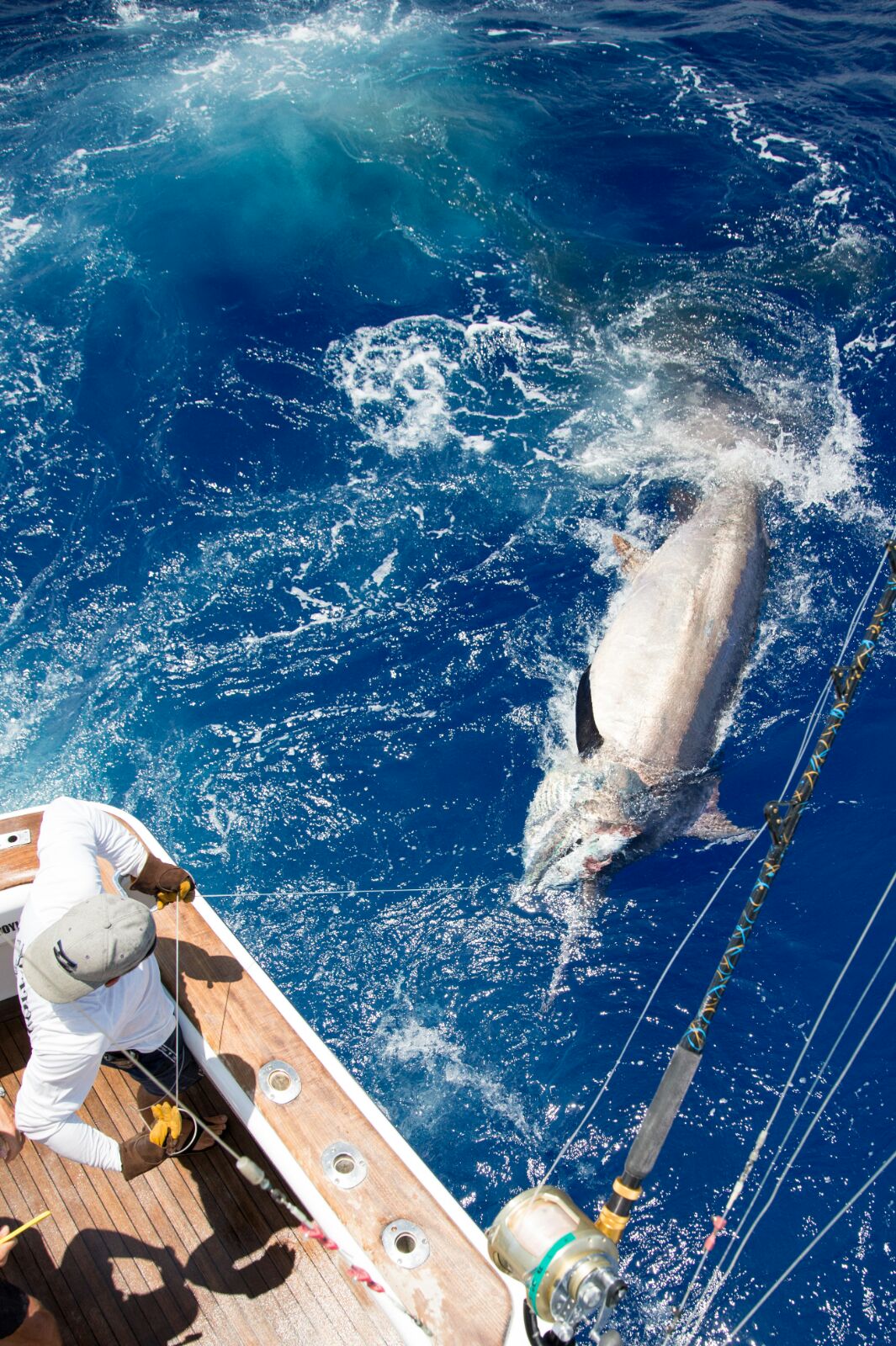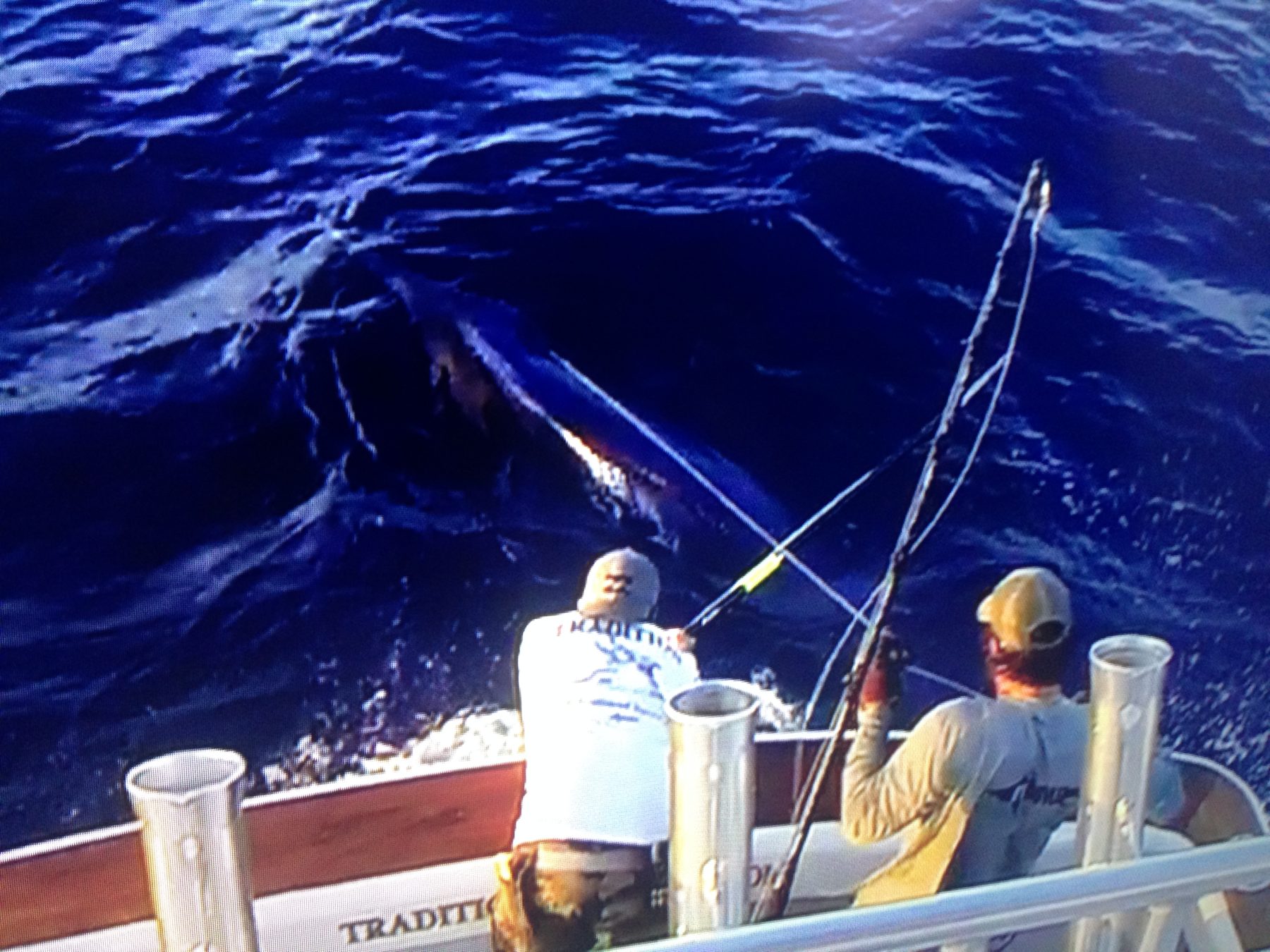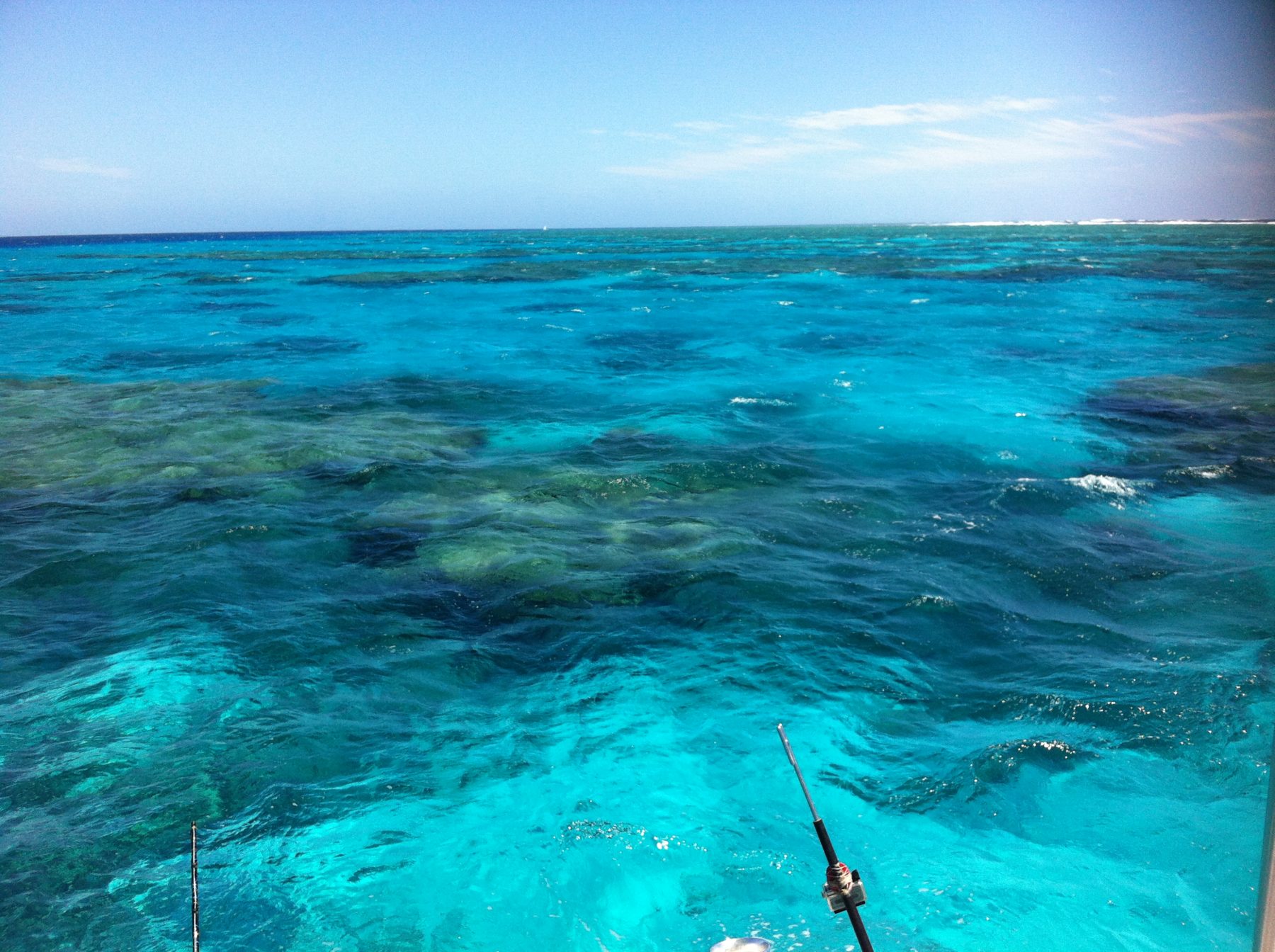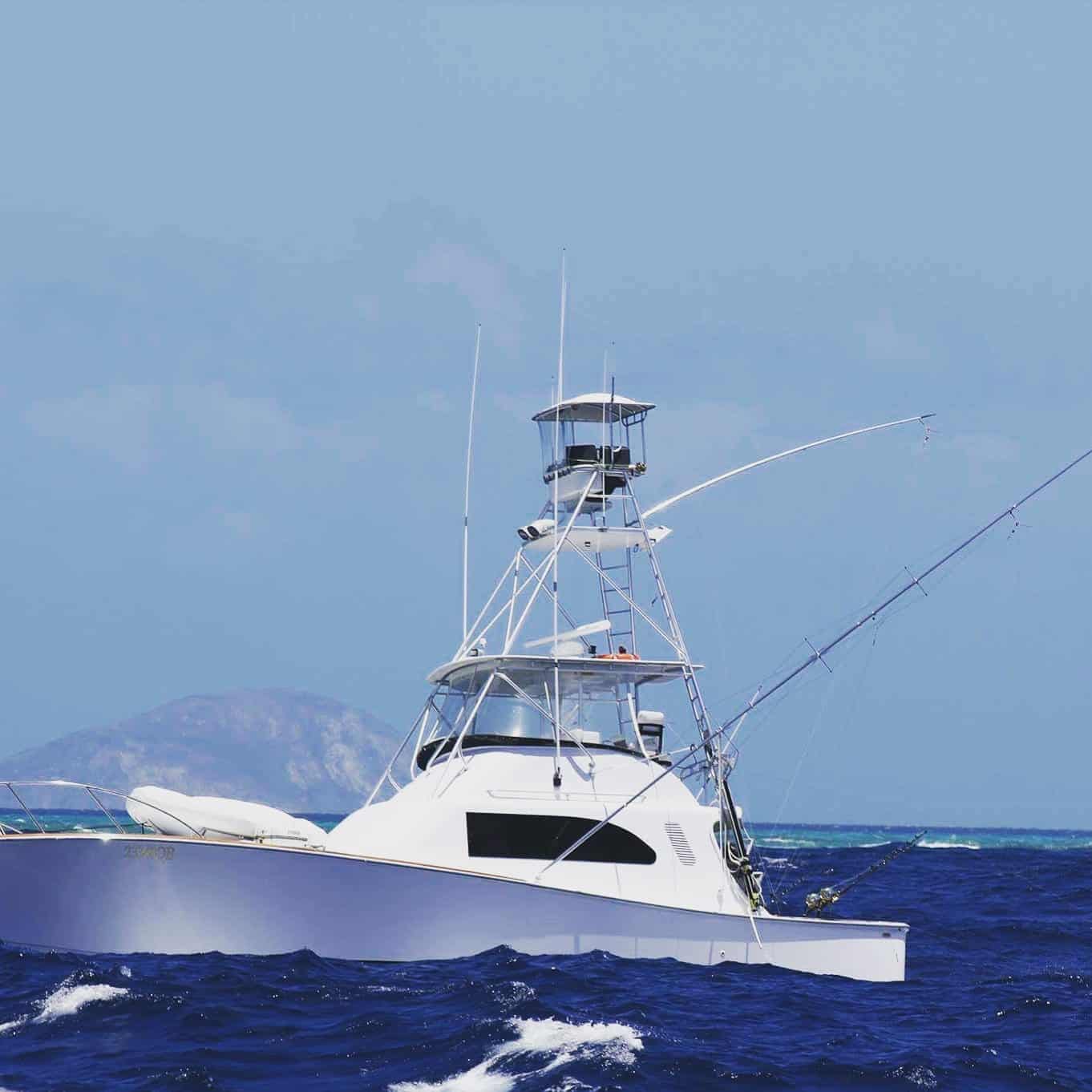 Coral Sea-Extreme Outer Great Barrier Reef Trips
TRADITION is one of the few boats equipped and licenced to fish Flinders, Flora , Holmes and Osprey Reef systems. These reef systems are about 100 miles or more from the mainland, and are favourites for us to fish as they are near pristine. Poppers and jigging for GT's, more wahoo than you have ever seen are around at certain times of year, as well as billfish. Great anchorages are available, with incredible snorkelling and spearing - a great exploration trip to places only a few boats have been. Flora Reef is the southern atoll of the Holmes complex east of Cairns. Arriving at the corner of Flora we were attacked by about 8 wahoo, all over 40lb, leaping out of the water in a race to destroy our tackle. In previous years we fished 30 lb line and must have released over 20 wahoo up to 50lbs and 5 more dogtooth up to 80lbs.
When one wahoo was up to the boat, there were up to 8 more free swimming around the boat eating chunks that we threw to them. The ensuing loss of many poppers and jigs was expensive, but damn it was a lot of fun!!!
Osprey Reef is NE of Lizard Island and has seen very few boats over the years, only 1 or 2 boats go there a year to sportfish!! Sails, wahoo, dogtooth, coral trout and GT's, all call this region home!!!! If you love jigging, popper fishing and fly fishing for big fast and explosive fish such as wahoo, tuna, marlin,sailfish, coral trout these are the places for you!!! These trips are available as liveaboard or mothership charters, and I have other boats available for bigger groups.