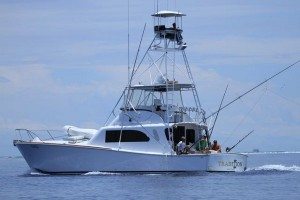 TRADITION CHARTERS now has 2 exceptional custom game boats on opposite sides of the world !! In Australia we have the TRADITION, and in the Caribbean we have the CHASER.
TRADITION is 49 feet in length and was designed and built for one purpose – to catch 1000lb black marlin with no compromise in design or construction. This means a comfortable boat for clients and the crew to fish and relax while maintaining levels of fishing performance without equal. This nimbleness and comfort makes TRADITION a great platform for all types of sportfishing.
She was built in 2000 by Dick Ward of Cairns Boat Builders in Cairns. TRADITION is kept in the beautiful condition by Capt Tim and his professional crew.
TRADITION underwent a major refit in 2010 with a new paint job, new teak deck and scupper, as well as constant upgrades to make her just about perfect. 2017 sees all new GARMIN electronics installed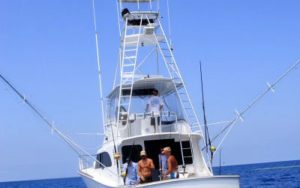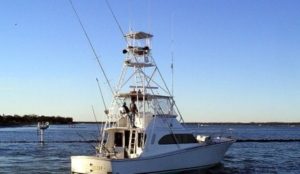 TRADITION has a large spacious airconditioned salon with all the comforts that are expected by todays client, whilst only steps from the cockpit. Her spacious open plan air conditioned accommodation comfortably caters for up to 3 anglers and crew, in one master stateroom with ensuite and an open plan room with 2 bunks on each side. There is an additional full head as well. The cockpit has a teak deck and covering boards. The hull design provides great performance at sea, with excellent stability while fishing and at rest.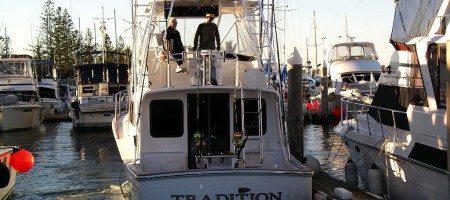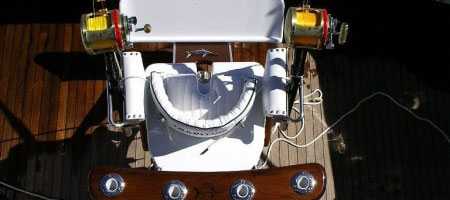 TRADITION is arguably one of the finest game fishing charter vessel in Australia and is the perfect platform when combined with a mothership for your personal needs.
She is also very comfortable for liveaboard and day charters from Townsville, Cairns, Port Douglas and Lizard island during August through December, southern Queensland in January.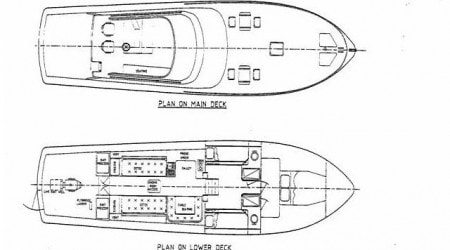 We also offer saltwater fly fishing for sailfish and marlin and other sportfish. We use Mako fly reels and custom fly rods by Temple Fork Outfitters and Dru. Powered by twin diesel MTU 6R-183 600hp engines, 240v domestic power is provided by 2 diesel Onan generators. TRADITION – a first class game boat with world class crew, will ensure you the ultimate in big game fishing, light tackle sport fishing and saltwater fly fishing on the Great Barrier Reef and Queensland coasts.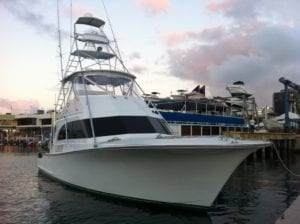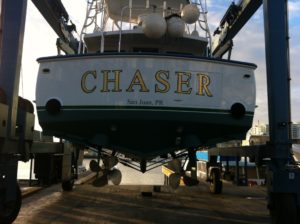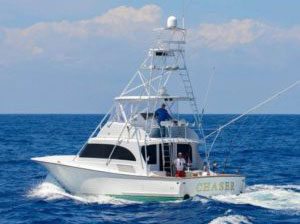 The CHASER is one of the most famous G&S boats in the world, and after a major refit and repower in 2015/2016, she is fishing in the Dominican Republic, and Caribbean each year from February thru August. At 48′ in length and built as the Sound Machine, she has multiple world records and is know for her performance when fighting fish. With a cut transom, wide spaced engines, not too many fish can outrun her. This is what makes these boats special, you can position the boat where you want, when you want without compromise !!!
I repowered the CHASER with Caterpillar C12 700 hp engines and Twin Disc Quick Shift gearboxes, a new Phasor generator and all new systems in the engine and pump room. 2017 sees all new GARMIN electronics
She is a true fishing machine, and you will love being on her as much as I do !!!