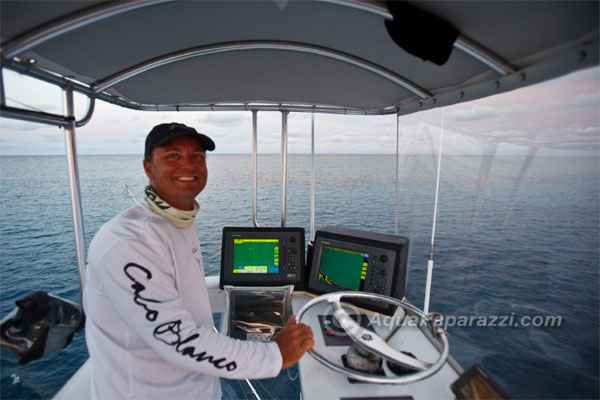 Capt Tim Richardson is the consummate professional boat captain. Being based in Florida since 1992, and traveling worldwide, Capt Tim has fished in so many places, with different techniques and styles of fishing to produce a well-rounded and highly respected fisherman. Capt Tim has fished the Cairns black marlin season on the Great Barrier Reef since 1989. and has been the Captain of his boat, the "TRADITION" since 2005.
He as been based in the Dominican Republic for the last several years in the Cairns off season, which is also the prime season for DR, first on the Ambush, for a couple of years, then leased the Prime Time in 2015, and fished his new boat, the 48' G&S "CHASER" which he has lovingly restored over the last few years.
He has fished in Australia, Florida, Bahamas, Turks and Caicos, Montauk, Bermuda, Panama, Costa Rica, St Thomas, Puerto Rico, Dominican Republic, British Virgin Islands and Caribbean, St Martin, Montserrat ,Dominica,Martinique, St Lucia, St Vincent and the Genadines, Barbados , Mexico, both Pacific and Atlantic, Hawaii, and of course the greatest place on earth – the Cairns and Lizard Island region of the Great Barrier Reef.
2019 Cairns Season, top boat for the fleet with 76 blacks, biggest over 1100 lbs. Really good solid fishing most of the season.
2017 Cairns season, biggest fish tagged 1100 lbs+, a great run of 45 fish in 30 days, had shots at a ton of big fish and had a bite from the sea monster
2017 DR season at Casa De Campo- 64 blue marlin , runner up in the CDC Cup (month long tournament),Champion Angler and 3rd place boat at the International Blue Marlin Tournament. Cap Cana 1 blue and 3 whites on fly, and 34 whites on 20 lb
2016 Cairns season, 67 black marlin, including 1054 lb off Lady Musgrave Island
2016 DR season with the Chaser- great fishing and a ton of blues and whites
2015 Cairns Season with 3 over 1000 lbs, and a bunch of nice ones
2014 Cairns Season with 18 over 800 lbs and 3 over 1000 lbs
USL Master Class 5 #COO2626 since 1996
Associate Degree in Mechanical Engineering from University of Central Queensland Marine Engine Driver grade 2
2013 Cairns Season 13 over 650 lbs and 3 over 1000 lbs.
2013 DR season, 33 blue marlin in one 11 day stretch
2012 Cairns season with lots of big fish and the largest fish of the season 1220 lbs.
2011 Cairns season with 3 over 950, including the biggest fish of the season at 1103 lbs.
2010 Cairns season with 3 over 1000 lbs released and another 3 over 900 lbs released.
2010 St Lucia – 10 blue marlin in a day on the "Ambush" 61 Garlington
The Billfish Foundation 2006, 2012, 2013, 2014, 2015, 2016, 2017,  Top Tagging Captain for Pacific Black Marlin
1st Place 2008 Barcadi Billfish Tournament as Captain of the Certifiable, numerous tournament wins as a mate and captain.
1220 lb Black Marlin GBR
1207 lb Black Marlin GBR
1199lb Atlantic Blue Marlin (Bermuda)
1173 Black Marlin GBR
1103 Black Marlin GBR
1054 Black Marlin Lady Musgrave Island Dec 2016
Over 3000 billfish, tagged and released 38 over 1000lbs ,tagged and released Blue marlin on fly as angler
Capt Tim is also on the Pro Staff at Garmin,Costa Del Mar,Lindgren Pitman, TFO Fly Rods, Melton Tackle, Aftco, Pakula Lures and Tackle, Lees Tackle, RJ Boyle, Squidnation, RodsbyDru, and Ande Momofilament
Tims other passions are motorcyle racing, spearfishing, golf, and his lifelong love of surfing.
Captain Tim Richardson is available worldwide for freelance captain work, boat design and construction oversight. Fly fishing for marlin, light tackle or unlimited heavy tackle, and record fishing are all loves of Capt Tim.