Dominican Republic Fishing
Capt Tim Richardson has been fishing the world renowned light tackle blue marlin fishery in the Domincan Republic since 2012. First with the 61' Garlington "AMBUSH", and in 2015 on the 52' Viking "Prime Time". The DR as its known, is the place to go for white and blue marlin fishing, as well as some great fish for the table including swordfish. The fishery is primarily a light tackle experience, with the marlin between 40 and 250 lbs, with the odd bigger blue later in the season. It is quite common for double digit marlin days out of the DR.
We are the only boat that also specialises in fly fishing for blue marlin, with custom teaser rods, TFO fly rods, and Mako fly reels, we can provide everything, or bring your own gear. We can help you gain experience and learn more techniques for catching marlin on fly. We have helped many clients catch their first marlin on fly, as well as those more seasoned anglers catch the white and atlantic blue marlin they need for their quest for a sale on the fly rod.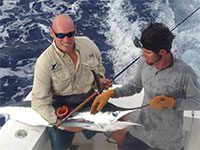 My new boat, the 48' G&S custom game boat CHASER, is built to fish, with no compromise in its trolling and fish fighting agility. Those who know, know how special these boats are for light tackle and flyfishing !!! The ability to stay on a fish is unequalled. Blue marlin in 34 seconds, no problem, 15 knots backwards, no problem !!!! We have an excellent boat, brand new tackle , a full suite of custom RodsbyDru trolling rods, and some of the best crew there for our light tackle and flyfishing trips. Come for a day, come for a week.
The DR is a great destination for everyone, including the whole family at some of the finest resorts in the Carribean. A wonderful place, very safe, and we can help you with all of you travel needs.
2017 we won Champion Angler and 3rd overall in the Casa De Campo International tournament, and 2nd place in the Casa De Campo Cup with 44 blue marlin.
Capt Tim is based out of two destinations:
Casa De Campo February 1 to April 30 2019.
With many days of 4-6 blue marlin tagged and up to 10 fish seen. We are typically fishing 30 lb tackle, but also pitching with 50 lb for 100-250 lb blue marlin. This is the best place in the world for fly and light tackle blue marlin fishing that is close to the US.
For 2018 we have the same incredible house as 2018, a  lovely 3 bedroom home close to the marina in the golf cart. With a full time maid and wifi, we are only 20 minutes from La Romana Airport, and an hour from Santo Domingo and Punta Cana on the new highway. I have an english speaking driver available to pick you up at the airport and bring you safely to the house.
The boat and house are available as a package or separately.
Casa De Campo, blue marlin fishing the FADS – Fly and light tackle are our speciality !!!!
A typical day starts at the Marina Casa De Campo on the main dock around 7.15 am and we return around 5-7 pm depending on fishing and how your day is going. We provide all food and drinks and tackle for the day.
Availability with the 3 bedroom house:
Booking now for 2019 season, fly, and conventional and record fishing.
February 1 to April 20 fish
Casa De Campo is a world class facility with wonderful restaurants, incredible golf, shooting and sight seeing.
http://www.marinacasadecampo.com.do
Cap Cana May 1 thru June
Cap Cana is 7 miles from the Punta Cana International Airport. Punta Cana offers direct flights daily from all over the world and the whole Cap Cana and Punta Cana region have many accommodation options, as well as golf, natural springs and all the holiday activities you would expect in a world class resort region.
We are fishing 20lb tackle for the white marlin and 30 lb for the blue marlin, as well as offering fly fishing for marlin as well. http://traditioncharters.com/carribean/ http://traditioncharters.com/carribean/ http://traditioncharters.com/carribean/Our crew are world class, and we cater for first time anglers through to seasoned pros. With plenty of marlin, dorado, tunas and the odd wahoo, its a great place to visit for the most consistent marlin bite in the western atlantic for the last few years.
A typical day starts at the Marina Cap Cana at our slip C31 around 7.30 am and we return around 5pm depending on fishing and how your day is going. We provide all food and drinks and tackle for the day.
Mid July to Mid August British Virgin Islands and Caribbean
Fishing out of the BVIs, St Martins Marlin boulevard, there are lots of options for day trips, family trips and exploring the islands as a liveaboard trip.