October 26, 2011
/
/
Comments Off

on Oct 26 2011
Joining us all the way from Germany this week is Stephan, who is with us for 14 days. Also with us for the trip is my good friend Scott Kerrigan, who is one of the best photographers out there. I have known Scott since St Thomas in the mid 90's. He is here to document Stephans trip to the GBR.
Check out Scotts website http://www.ScottKerrigan.com/
Fishing has been good, but still a bit patchy, we started off the trip with a nice 600 lb fish on No: 10 Ribbon, where we had been fishing during the comp with Lydie.
We spent the mornings bait fishing and throwing poppers , with some nice GTs, but nothing huge. Stephan has fished with Steve and Zac Conde in Cape Verde the last few years, and has both pacific and atlantic grander blue marlin, and is here to catch a big black.
We picked away at the fish for the first week in unusually calm weather, with some days seeing 4-6 fish, and others not getting a bite. We worked hard for our big bite, and she came while fishing up on Day Reef, got the bite on the big bait in the turn and after coming tight, she just started trucking out to sea. No jumps at all, just a solid pull as she swam east. I knew it was a big one on the bite, the boys had the gaffs ready incase she was big enough, but after 30 minutes we pulled the hook with the fish fairly close. No the result we wanted, but not much we could do. Stephan did an awesome job in the chair.
In the 2 weeks we saw 29 fish, had 12 bites and caught 10, so overall not too bad, but with a bit of luck could have been incredible!!! Stephan has already locked in his dates for 2012 to try again for the big one!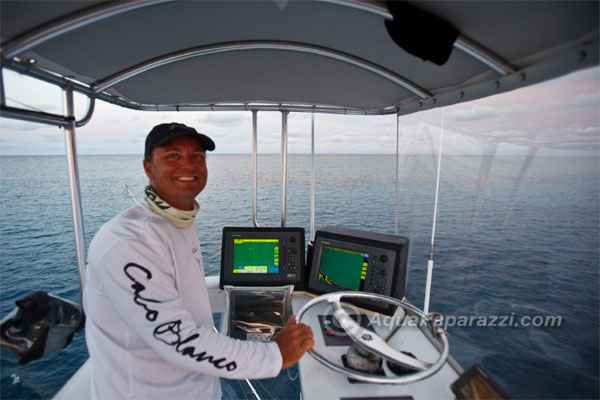 Capt Tim